The Mad Cows
John Cherene: Lead Vocals, Rhythm and Lead Guitar - John fronts The Mad Cows with his powerful vocals, solid guitar playing and engaging personality. John has a real talent for impersonating many famous singers, including Van Morrison, Bruce Springsteen, John Lennon, Elvis Presely and Tom Jones. He also plays a mean slide guitar.

John Hause: Drums - John is an accomplished drummer, having played in many original and cover bands over the last two decades. While having studied for many years with one of the great jazz drummers, he is equally at home with rock, funk, country and pop as well. Additionally, (although he doesn't let many people know), John is also a great singer; but he prefers to concentrate only on the drums!

Nelson Kerr: Lead and Rhythm Guitar, Background Vocals - Nelson's solid rhythm and lead guitar playing help drive The Mad Cows' exciting sets. Constantly improving his style by studying the old Motown masters, as well as jazz and rock guitar idols, Nelson's dedication to his instrument combines with his "Scottish puck" to create a lot of energy onstage.

Dave Lindsay: Lead Vocals, Keyboards, Saxophone, Acoustic Guitar - Dave's versatility and superior talent have lead him to play with such groups as Ike &Tina Turner, The Four Tops, Dave Wakeling (from The English Beat) and The Don Miller Orchestra. Dave's animated and irrepressible personality also shines through on stage, providing many laughs throughout the evening.

Al Reyes: Bass, Background Vocals - Al's melodic bass style comes from a broad range of influences, having orchestrated and played arrangements for big bands, as well as salsa and rock groups. He is a graduate of the esteemed "Grove School of Music" and is always looking for musical influences of all kinds to augment his style. He is also the "quietest" member of the group!

Denice Rivers: Lead and Background Vocals - Daughter of jazz saxophone legend Red Holloway, Denice began singing gospel in church at the age of 5. While singing to herself at work one day, Nelson Kerr (lead guitar for The Mad Cows) heard her, and asked her to come "sit in" with the band; she's been in the band ever since! Her influences include Aretha Franklin, Patti LaBelle, Etta James, Billie Holliday, Sarah Vaughn, Dinah Washington and Rachelle Ferrell. Denice's powerful voice adds a real "touch of class" to the group, and her wild personality keeps all the Cows on their toes!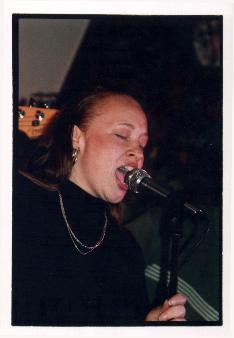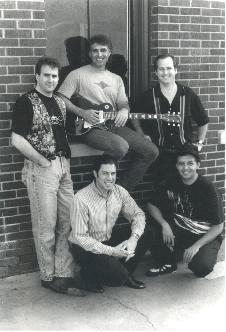 Denice Rivers Clockwise from top left:
John Hause, John Cherene, Nelson Kerr
Al Reyes, Dave Lindsay